Maptriks investigated the development of retail sector in Istanbul covering last four-year period from 2014 to 2018 by using power of location.
The competition in the Istanbul market has been examined by using "REPS" solution of Maptriks. REPS is an AI-based simulation and prediction tool, in other words a survival kit to stay alive in a competitive market. REPS has a rich dataset including 17 categories, 146 sub-categories and 4070 brands. In this article a case study covering Istanbul is provided in the context of retail sector and chosen sub-sectors of retail.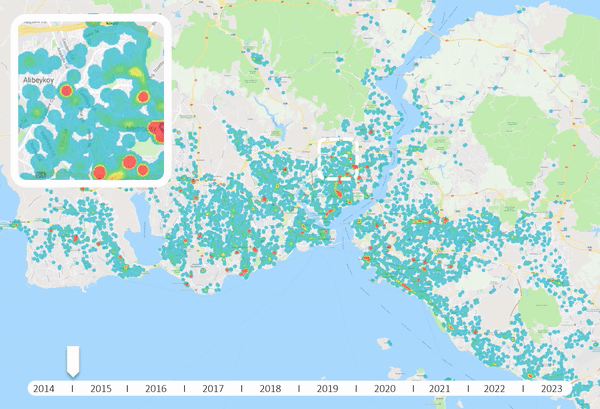 The retail sector is widening day by day in Metropolitan area of Istanbul from 2014 to 2018, especially in Besiktas-Maslak line due to transport links and commercial land use, as seen in the animation. Chosen four sub-sectors with five leading brands have examined (cosmetics, sport wear, coffee, and technology) to determine the changes for last four-year period by their store counts in Istanbul marketplace.
When looked at changes in context of sub-sectors, 5% growth in sports wear stores, 9% growth in coffee stores and 18% growth in cosmetic stores can be seen at the table above. On the other hand, the count of tech stores decreased by 2% during 2014-2018.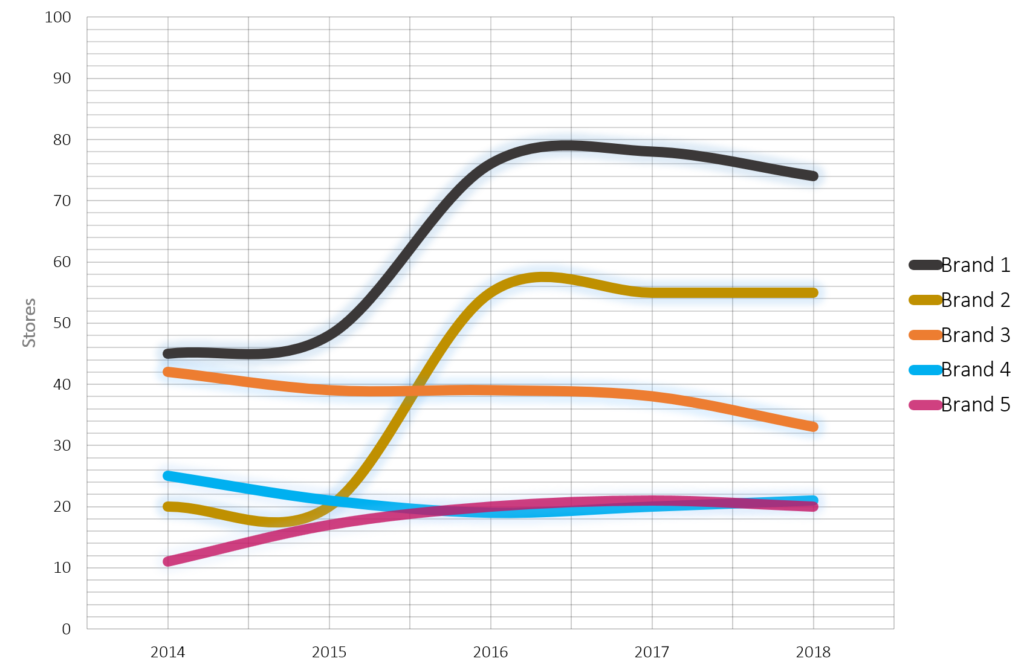 In sports wear sector, the Brand 1 has increased its store number around 10% in Istanbul. The Brand 2 which entered the Turkey market in 2010 has leaped forward in 2015 by increasing the store number around 63.6%. The number of stores of Brand 3 have decreased %8.5 in last four years. After 2016, the five leading brands did not open new stores.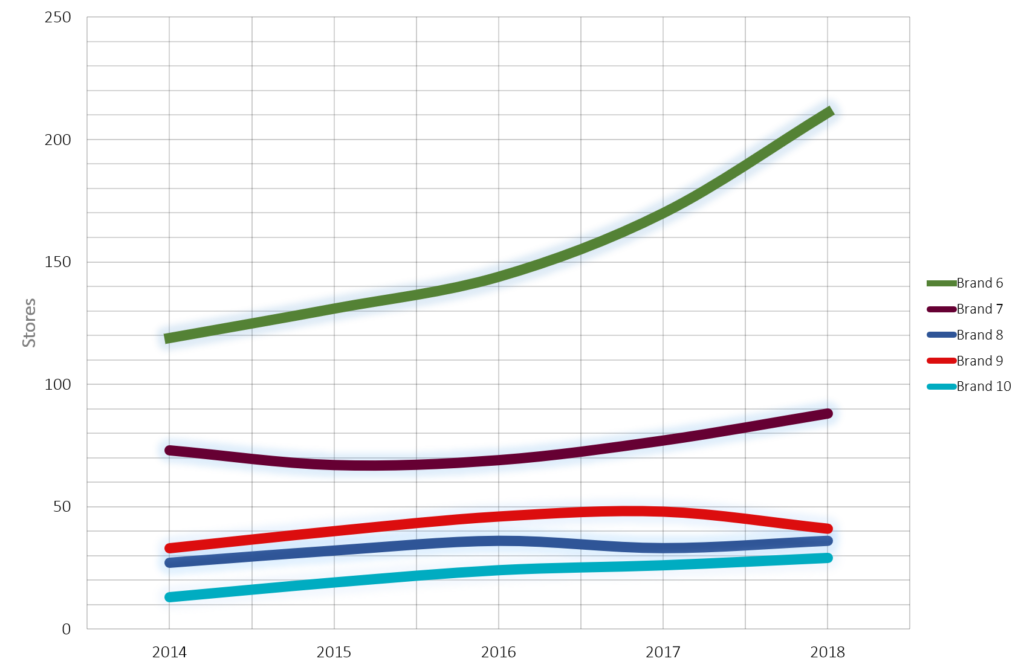 When looked at the coffee brands in Istanbul, it is seen that the top five market leading brands increased their store counts around 9%. Brand 1, the leader of the market, has increased its store count around 13% and continued to be leader of the market in 2018. In conclusion, the all market leader brands have increased their shops over last four-year period.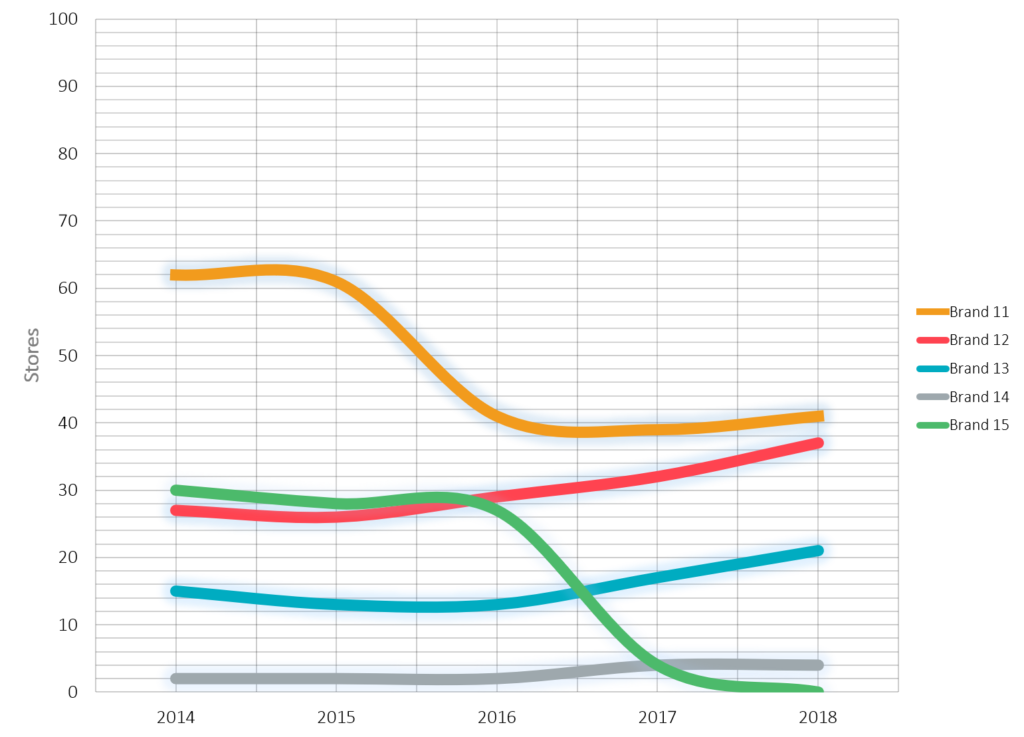 The technology sector did not go well by comparison to other three, and it became the sector which closed most of its stores in Istanbul market. During the four-year period from 2014 to 2018 the stores of Turkey's leader brands of tech have decreased by 35.3%. The brand 15 have pulled out of the market in 2018 and store number of Brand 11 has decreased around 12.4%.
All five leading brands in cosmetics sector have grown in Istanbul over four-year period. The brand 20 stands out as the brand that increased the number of stores with average 30.7% growth rate. The leader of the cosmetics market Brand 16 has %16.35 growth rate in the four-year period.
A Route Map to Survive in a Competitive Environment:
The business environments are changing rapidly within globalization, technology, lifestyle and consumption habits. Rapid change in the business environment has been viewed as a key problem for organizations. While focusing on your own business, and their daily experience, there is not much energy left for continuous competition watching. On the other hand, almost every business decision is influenced by competitive business environment. Observing and comparing the business performance metrics of local competitors in the context of data give needed insights for next planned actions of your business.
Identify your competitors
You can't analyse and compete with your competitors if you don't know who they are. The key to identify your competitors is your customers. It is possible to identify your primary, secondary and even tertiary competitors by put yourself in the shoes of your loyal customer segment.
2. Analyse your competitors
If you want to do a complete analysis, you will need to do a deep dive into the background, location, products or services, marketing, sales, and personnel for each competitor that you have identified. You need a comprehensive dataset or true questions to ask about your competitors.
Look at the history of your competitor's business, with a focus on important dates and events. Include research on the ownership, financials, and organizational structure of those businesses.
As we have already mentioned at the beginning of the article, location is a key factor in the context of economic expansion. Consider the location of your competitor's stores and offices. Location is the key part of your competitor's and weaknesses as affects foot traffic, logistics, and accessibility.
Product-based businesses should look at competitors to see the types of products offered, the pricing policies of products, and the depth and breadth of product lines, and whether they are missing any key products. On the other hand, you should also analyse influence area of products to determine weaknesses at the market.
Sales Channels & Strategies
Understanding your competitor's sales strategy can help you make strategic decisions about where you sell and how you do it. However, this step can be tricky since most of this information is not publicly displayed. You can ask these questions to increase your competitiveness and optimize your sales strategies and channels:
What is annual revenue and growth pattern?
Which channels are my competitor selling through?
Are there multiple locations?
What does the sales process look like and how involved is a salesperson?
If my competitor expanding?
Once your business is up and running, you and your employers should continue to learn about your competitor's strategy since competition is a dynamic and complex phenomenon.
3. Segment the Competition
Once you've conducted extensive research on each of your competitors, you will want to segment them as primary, secondary, and tertiary.
Primary Competitors are direct competitors that are targeting your same customer segment, have a similar product offering, or both. These are businesses you should regularly track and, also have an in-depth understanding of their operations.
Secondary Competitors may offer a variation of your product, either at the high or low end of the spectrum. These competitors may also have a similar target market but an entirely different product.
Tertiary Competitors have products tangentially related to yours, but may not be your direct competition just yet.
4. Explore New Business Opportunities
Are direct competitors growing or scaling back? What about indirect competitors? Why and what does that mean for your business?
What opportunity does your business have to differentiate from your competition? Is that in product offering, marketing, or sales?
Are there areas where competitors are weaker and your business can stand out?
What are your competitors strengths and how can you compete?
What is your plan if drop out or enter the market? How can you take advantage of the situation?
There is no best data to analyse market and competition, each data source is important on its own way and it depends on your application field.
Since 2009, Maptriks offers business analytics solutions for various application fields to companies from different sectors with its deep knowledge and experience by using power of location to enhance competitiveness in today's global business ecosystem.
Maptriks Survival Kit: REPS
REPS offers to stay alive in a competitive business environment and compete with your competitors in your target market from macro scale to micro scale (street/shopping mall scale) by using power of location. You can discover weaknesses and strengths, optimize your risks, and transform challenges to opportunities with comprehensive analyses and reports of REPS.